Morning Egg Breakfast Cups Meal Prep Recipe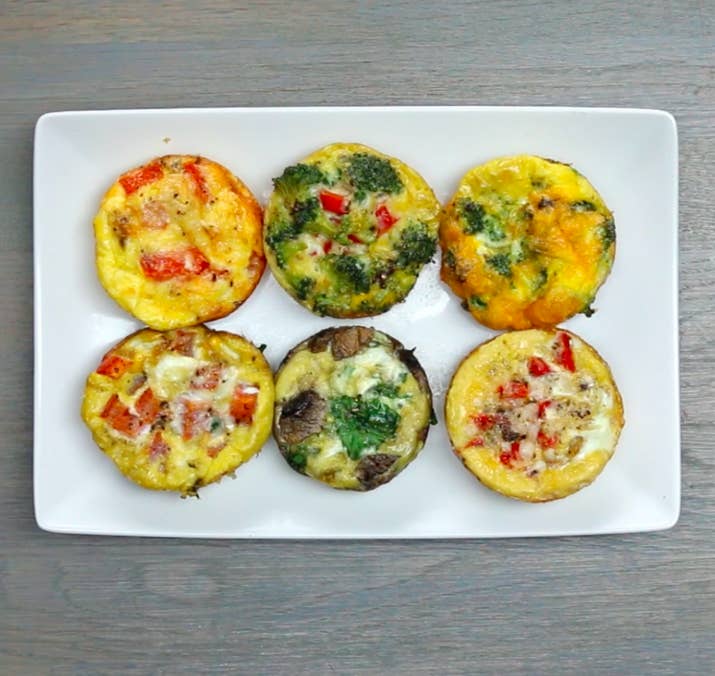 INGREDIENTS
Servings: 6
5 eggs
Salt, to taste
Pepper, to taste
Mix And Match Fillings
Spinach, chopped
Tomatoes, diced
Onion, diced fine
Bell pepper, diced fine
Broccoli, cut into small florets
Parmesan cheese
Cheddar cheese
PREPARATION
1. In a measuring cup, beat the eggs until smooth. Set aside.
2. In a greased muffin tin, place your desired combination of fillings into each muffin cup.
3. Season each cup with salt and pepper.
4. Pour the beaten eggs into each muffin cup until the liquid almost reaches the top.
5. Bake at 350°F/180°C for 20 minutes, until set.
6. Enjoy!
Breakfast Burritos Meal Prep Recipe 
INGREDIENTS
Servings: 7
6 baby red potatoes, quartered
16 ounces sausage – Lean turkey
1 red pepper, chopped
1 yellow onion, chopped
Salt, to taste
Pepper, to taste
10 eggs, beaten – Use egg whites as a healthier option!
2 cup shredded cheddar cheese
½ cup scallions, sliced
Corn tortillas
PREPARATION
1. In the same skillet, using leftover bacon grease (drain some if necessary), add the potatoes and season with salt and pepper.
2. Once lightly browned, add in peppers and onion. Cook until potatoes have browned and the peppers and onions have softened. Remove from pan and place in bowl to cool.
3. In the same saucepan, cook sausage until browned and cooked through. Remove to a paper towel-lined bowl. Finally, reduce heat to medium-low and pour beaten eggs into the skillet. Fold and stir eggs occasionally until cooked but still soft and moist. Remove from pan.
4. Gather cooked ingredients, having let them all cool slightly. Gather flour tortillas, shredded cheese, and sliced green onions (optional), and set them out on your table or workspace.
5. To assemble the burritos, lay out a tortilla and start with a base of eggs, followed by desired toppings, and finish with cheese.
6. To wrap the burrito, fold in both sides, then fold the bottom up and over all the ingredients. Roll up tightly. (If you find the tortillas are tearing, heat them up a few at a time for 20 seconds in the microwave before assembling).
7. Wrap up in parchment paper and repeat with remaining tortillas and ingredients, customizing the burritos to your liking. Place the parchment-wrapped burritos in a 1-gallon freezer bag and place in the freezer to store for up to one month.
To reheat:
1. Remove the frozen burrito from the freezer. Unwrap from parchment paper and wrap the frozen burrito up in a damp paper towel.
2. Place on a microwave-safe plate and microwave for 3 minutes. Remove from microwave and rest for one minute before unwrapping.
4. Remove the paper towel, serve with hot sauce, salsa, or sour cream! Enjoy!
INGREDIENTS
Servings: 4
3 chicken breasts, cubed
Salt, to taste
Pepper, to taste
1 teaspoon crushed garlic
½ cup soy sauce
⅓ cup honey
1½ tablespoons sesame seeds
1 onion, sliced
2 small bell peppers, thinly sliced
2 cups broccoli
1 green onion, thinly sliced
Cooked white rice
PREPARATION
1. In a pan, cook cut chicken over medium-high heat until almost done.
2. Reduce heat to medium and stir in the crushed garlic.
3. Add in soy sauce, honey, and 1 tablespoon of the sesame seeds. Stir until thickened.
4. Remove the chicken from the pan, leaving the sauce, and add the vegetables to the pan.
5. Cover the pan for several minutes and cook until the vegetables begin to soften, then remove the lid and stir until the sauce is thick again.
6. Split the rice, vegetables, and chicken evenly between 4 containers.
7. Top with a sprinkle of sesame seeds and sliced green onion.
8. Refrigerate for up to 4 days.
9. Enjoy!
INGREDIENTS
Servings: 4
2 tablespoons oil
1 red bell pepper, sliced
1 yellow bell pepper, sliced
1 large red onion, sliced
1 teaspoon salt
1 teaspoon pepper
1 pound ground turkey
1 1-ounce packet taco seasoning
1 28-ounce can diced tomatoes, drained
2 cups cooked rice
1 can black beans, drained and rinsed
1 can corn
1 jar salsa
1 lime, sliced into wedges
Cheddar cheese
Fresh cilantro, for garnish
PREPARATION
1. Heat oil in a large skillet over medium-high heat.
2. Add the peppers and onions and season with salt and pepper, to taste. Cook, stirring occasionally, until vegetables have softened. Remove from pan, set aside.
3. Add ground turkey to hot skillet. Break apart with a wooden spoon to separate.
4. Season with taco seasoning, stir, cooking until meat has browned and cooked through.
5. Stir in tomatoes. Bring to a gentle simmer for about 5 minutes. Remove from heat.
6. To assemble the taco bowls, add a base of rice to 4 food storage containers. Top each with a scoop of black beans, corn, salsa, cheddar cheese, cooked peppers and onions, and taco meat. Garnish with fresh cilantro and a lime wedge.
7. Store in the refrigerator (and enjoy any extras immediately). Can be kept refrigerated for up to 4 days.
INGREDIENTS
Servings: 4
2 tablespoons olive oil
4 chicken thighs, boneless and skinless
Salt, to taste
Pepper, to taste
1 pound green beans
2 cups cherry tomatoes, halved
½ cup basil pesto
PREPARATION
1. In a large pan, heat olive oil and add chicken thighs. Season with salt and pepper. When the chicken is completely cooked through, remove from pan, slice into strips, and set aside.
2. Add green beans and cook until crisp tender. Return the chicken strips to the pan, then add tomatoes and pesto. Stir until fully incorporated.
3. Serve immediately or divide into 4 food storage containers and store in the refrigerator. Can be kept refrigerated for up to 4 days.
4. Enjoy!